New York - On the heels of the Global Climate Action Summit, Governor Edmund G. Brown Jr. today called for accelerated climate action at all levels and sectors of society in remarks at the opening of Climate Week NYC, where he was joined by UN Framework Convention on Climate Change Executive Secretary Patricia Espinosa and heads of state including New Zealand Prime Minister Jacinda Ardern, Marshall Islands President Hilda Heine, Peru President Martín Vizcarra and Republic of Haiti President Jovenel Moïse.
"Ten days ago we closed the Global Climate Action Summit in San Francisco with strong new commitments and this week we carry that momentum across the country to Climate Week NYC," said Governor Brown. "The path away from fossil fuels is daunting but California and like-minded partners will press on."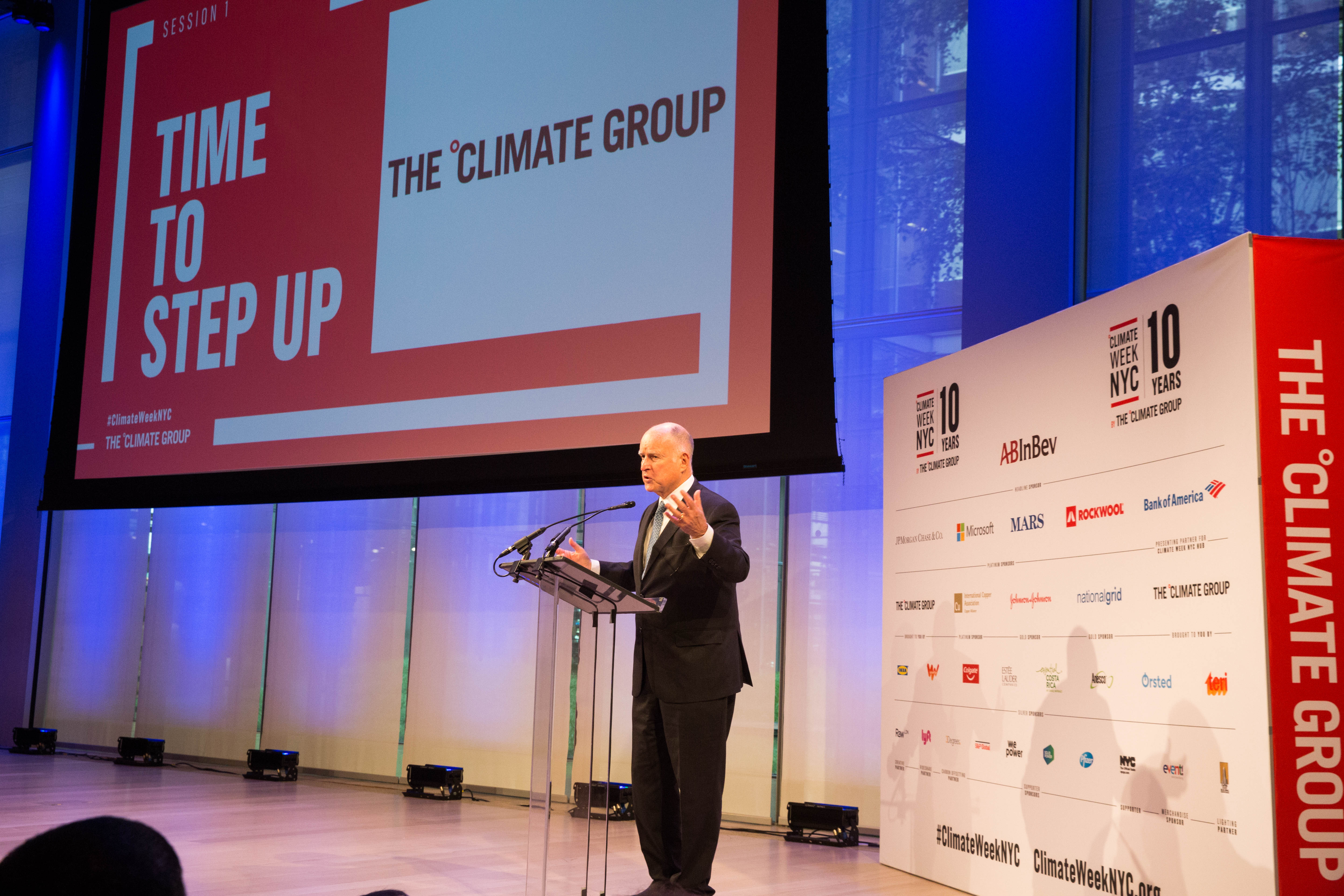 Governor Brown opens Climate Week NYC.
Climate Week NYC, hosted by The Climate Group, builds on the wave of new climate action – including hundreds of new commitments – from grassroots activists, mayors, governors, heads of industry and nonprofits and other climate leaders from around the world at the Global Climate Action Summit.
Ahead of the Summit, Governor Brown signed legislation setting a 100 percent clean electricity goal for the state, and issued an executive order establishing a new target to achieve carbon neutrality – both by 2045. The Governor also signed legislation to block new federal offshore oil drilling along California's coast and announced the state's opposition to the federal government's plan to expand oil drilling on public lands in California.
Governor Brown served as co-chair of the Summit, during which he announced that the state is teaming up with Planet Labs to develop a satellite that will track climate change-causing pollutants with unprecedented precision and enable more targeted mitigation measures worldwide. Governor Brown also signed a raft of measures to promote zero-emission vehicles and reduce carbon emissions; released a new report quantifying non-federal climate action in the U.S.; joined fellow U.S. Climate Alliance governors to announce a range of new commitments; met with Canada's Minister of Environment and Climate Change Catherine McKenna, Mexico's Deputy Minister for International Affairs Enrique Lendo Fuentes and others to advance a framework for ambitious climate action across North America; and participated in a ministerial dialogue with heads of state and international climate leaders, including European Commissioner for Climate Action and Energy Miguel Arias Cañete. Governor Brown and Commissioner Cañete also reiterated their commitment to greater alignment of California and EU carbon markets.
In addition, Governor Brown signed an agreement to enhance climate and clean energy cooperation with China, met with the Vice Governor of Jiangsu Province and joined leaders, including former Vice President Al Gore and China's Special Representative for Climate Change Minister Xie Zhenhua, for a U.S.-China subnational climate dialogue. The Governor held discussions with Governors' Climate and Forests Task Force members and indigenous community leaders; joined a signing ceremony for 16 new Under2 Coalition members; participated in an event to support the Talanoa Dialogue; and highlighted the importance of California's landmark cap-and-trade program at an event co-hosted by the by the European Commission, Canada and California, during which he blasted the Trump Administration's proposal to roll back methane regulation.