Los Angeles, California - The FBI and law enforcement partners are seeking information from the public that leads to the identity of an unidentified male suspect wanted for armed bank robberies in Los Angeles and San Luis Obispo Counties. The suspect was given the moniker "Beachcomber Bandit" since both robberies occurred in beach cities, as follows:
May 13, 2014: U.S. Bank 555 E. Ocean Blvd. in Long Beach
June 10, 2014 Rabo Bank 899 W. Grand Ave. in Grover Beach
During the robberies, the Beachcomber Bandit was armed with a black semi-automatic handgun that witnesses described as possibly having a gun light attached under the slide. The weapon was carried in front of the suspect's waistband. The Beachcomber Bandit wears a black leather jacket over gray sweatshirt with the hood pulled over a plain black baseball cap. The Beachcomber Bandit is described as an Asian or Filipino male and further described physically as follows:
Height: 5'6" to 5'9"
Weight: 150 to 170 pounds
Age: 35-45
Complexion: medium to dark
Hair: graying goatee and/or mustache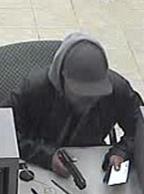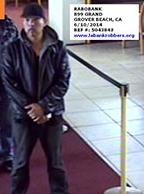 The suspect carries a small piece of paper in his hand when he approaches the teller window and verbally demands "all" the money, as well as the "big bills."
Anyone with information about the identity or whereabouts of the suspect known as the Beachcomber Bandit is urged to contact their nearest FBI office or dial 911.
Additional information about bank robbers currently wanted by the FBI's Los Angeles Division can be found at www.labankrobbers.org.