Details

Created on Friday, 30 May 2014 19:55
Written by IVN
San Francisco, California - Governor Edmund G. Brown Jr. met with the Governor of Shandong Province, Guo Shuqing, and other Shandong government officials today in San Francisco to discuss cooperation between California, China and Shandong Province on trade and investment, climate change, tourism and education.
Today's meeting builds on California's continued collaboration with China, including Governor Brown's 2013 Trade and Investment Mission to China, during which he met with China's Premier, China's Chairman of the National Development and Reform Commission, top government officials from Shenzhen, Guangdong, Jiangsu, and Shanghai, China's Minister of Commerce and China's Minister of Environmental Protection, signing the first agreements ever between a subnational entity and Chinese Ministries.
The Governor also opened the California-China Office of Trade and Investment in Shanghai, delivered remarks on climate change at Tsinghua University in Beijing, met with the U.S. Ambassador to China at the U.S. Embassy in Beijing and spoke at forums hosted by the American Chamber of Commerce in South China and American Chamber of Commerce - Beijing.
Since then, Governor Brown met with President Xi in June 2013 to discuss continued bilateral cooperation on trade, investment, climate change, technology, infrastructure, tourism, education and agriculture. The Governor also joined China's top climate official, National Development and Reform Commission Vice Chairman Xie Zhenhua, in September to sign a first-of-its-kind agreement on climate change between the NDRC and a subnational entity.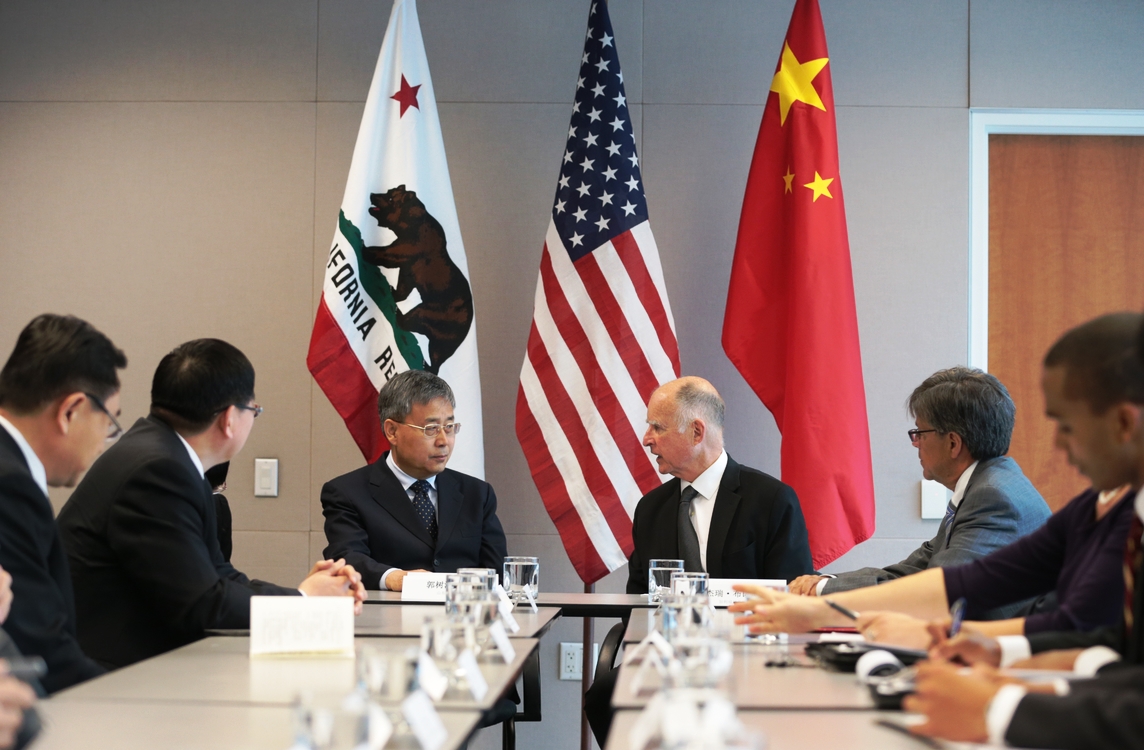 Governor Brown meets with Governor Guo of Shandong Province
Photo Credit: Justin Short, Office of the Governor.